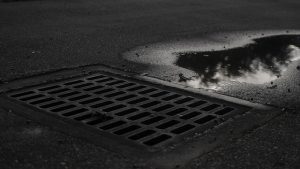 Technology has enhanced the diagnostic ability of drainage engineers immensely over the years. Nothing more so than that of the CCTV Drain Survey.
Why would anyone want to look in your drains you may wonder?
In this article we will go in depth into this snazzy piece of kit, telling you everything you need to know about a cctv drain survey.
From what is involved in a drain survey to how it is conducted. This article explains why drain surveys are an essential tool that drainage professionals have in their arsenal today!
What Are CCTV Drainage Surveys?
The simplest way to explain a CCTV drain survey, is an indepth look at the inner workings of your drainage system. A professional drainage engineer will attend your property with a specialist high tech camera that is on the end of a long tube.
This tube is often many metres in length, allowing for a deep dive inside parts of your drainage that you have likely never seen before!
The camera will send back a live feed directly back to the engineer, allowing them to identify any possible issues or blockages in your system.
What To Expect During The Survey
There is a particular routine that all drainage engineers will follow when inspecting your drains with CCTV equipment. It will be as follows:
Preparation Phase – Firstly, the engineer will blast your system with a jet of water. This gives you the clearest picture so that small cracks or other blockages can be easily identified on the camera above. All other equipment will also be readied such as the monitor and cables.
Survey – Now is when the engineer passes the cable through your pipe. It will run the length of your system and relay imagery back to the engineer on top through their connected monitor. Here you can easily spot problems or defects (hopefully nothing if you are conducting the drain survey for a property you have just bought).
Report Stage – After the survey has been completed, the engineer will go away to write up their findings in a detailed report. This will usually be completed within a week although check with the company you decide to use if you need this quicker. You will be emailed (or posted) both the report and a dvd copy of the actual survey that you can browse at your leisure!
Possible Equipment That Will Be Used For A Drain Survey
When performing the drain survey, the engineer will likely use a combination of tools to get the optimal view from inside your drains. The following are the 3 most common pieces of equipment that will be used.
Drain Jet – In order to get the clearest picture, a drain jetter is often used to clean out the drain before the camera is fed down. The drain jetter will provide a short but powerful blast of water that should flush away any minor blockages and other dirt.
Waterproof Cameras – As previously mentioned above, this will be mounted on a long wire allowing for easy use in the tight spaces in your drain pipes. It will also be waterproof for the occasions where it must be used under flowing water. This camera will give the engineer a clear picture above ground on the screen that relays the cameras feed.
Access Rods – like the camera itself, these are long flexible tubes that help the camera to pass through the drain. The rods allow for the camera to navigate the steep turns and corners for the U-bends in your system.
When Is A Drain Survey Necessary?
There are a number of instances where a homeowner or business will require a drain survey. Often you will have tried many solutions to unclog your drains, but the blockages keep on coming back.
Drain surveys can get to the point of the problem, identifying the root cause (pun will become apparent further down) to the problems you are experiencing.
Common instances that require a drainage expert to survey your drains include:
Moving into a new home
Recurrent blockages
To identify the source of a leak
These surveys need to be conducted by an experienced engineer for the best diagnosis. To find a professional you can search for one in your area on InfoBest here.
What Can A Drainage Professional Find With A Survey?
Blockages – A CCTV drain survey will get to the bottom of recurrent blockages, diagnosing the source of your problem. This could range from built up and hardened grease and fat deposits, to dead rodents or even a build up of leaves and other natural deposits. The survey will at least give them an idea of the best way to proceed and solve any future blockages from occurring.
Damage – Over time there is a distinct possibility that your drains will suffer cracks, splits and on occasions even bursts. Thankfully with the high resolution images that a drain survey provides, even the most subtle of cracks can be spotted. A plan can then be drawn up for the repair options you have available.
Root Ingress – One of the most common causes of collapsed or damaged pipes, are tree roots. Naturally they are inclined to grow towards water sources and can leave your pipes cracked and in need of either relining, or excavation and replacement. Even the smallest of ingression from tree roots can cause large amounts of damage to your pipes, so are best to be dealt with as soon as possible.
To Conclude
As you can tell from reading the above, drain surveys are an essential tool in maintaining a healthy drainage system. Whether you use them for clarification, checks or diagnosis, a CCTV drain survey gives us an insight that was once never possible.
Should you require any plumbing maintenance work, be sure to contact Into Plumbing and Heating, for excellent experienced and professional plumbing solutions through Essex!