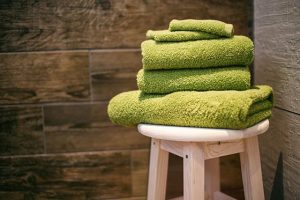 Bathroom Redecorating On A Tight Budget
Looking for ideas to decorate your bathroom on a budget? You have stumbled on the right article!
Lets face it, not all of us have the time or money to embark on a large scale bathroom revamp. There are always cheap alternatives that can change the look and feel of your bathroom in an instant!
Check out some of our favourite budget tips to decorate your bathroom. Here are our top 10 budget bathroom decorating ideas.
1 – Take On Small Scale DIY Works – The best tip for transforming your bathroom on a budget is to work with the room you already have. A little TLC can go a long way to transforming the look of your bathroom, and can save you valuable money and time whilst delivering a newly transformed style to your bathroom!
Take on small DIY tasks, such as painting, adding or changing storage and increasing the amount of accessories in the room.
Only take on what you feel comfortable with. Leave any works with expensive fittings or materials to professionals. If you wish to move any plumbing fixtures such as a sink or toilet, it is best to leave this to a fully qualified plumber!
2 – Adding A Lick Of Paint – From the walls to ceiling, a fresh coat of paint can do wonders. Pick up a tin of paint from places such as Homebase, and select the colour for you. Light colours will make the room feel larger, whereas a darker colour will give your room a warmer, more cosy feel.
You can even paint your floors if they are wooden. This is a creative way to make your bathroom feel new, with a very subtle change. Simply sand down the floor and then get to work with a couple coats of paint. Just be sure to pick specific wood paint when doing this job!
With this decorating idea, the biggest expense you will have to pay is time, as you wait for your transformed bathroom to dry.
3 – Mirrors – These are a great way to add some light and make the even a small bathroom appear to be much more spacious! They reflect light and give the appearance of a larger and more open space.
A simple way to add this in also would be a mirrored cabinet. Combining storage with a mirror can keep the bathroom stylish and add light and space. This way you can look your best, light up your bathroom and do so at a very affordable price!
4 – Plants – By bringing a bit of the outdoors in, you can add a new dimension to your bathroom. House plants can be bought cheaply from even your local supermarket, so it's definitely a great budget option that can breathe life into even the most stale of bathroom decors.
Sticking a few on a shelf or hanging basket could be just what your bathroom is screaming for!
You can even purchase fake plants, which will do just as good a job. However, if you want to purchase the real thing, think carefully about how much natural light your bathroom gets. This will dictate the type of plant you need to purchase.
5 – Towels – Quite possibly, this could be the cheapest way to accessorise and decorate your bathroom. Purchase some new ones and keep them on show.
Whether you roll them up and place them in a basket, or fold them to go on a shelf. Keep your new towels on show and experiment with how you store them.
6 – Curtains – From the curtains covering the windows, to the shower curtain on the bath. These accessories are often some of the easiest to replace, yet can also make the most difference, giving the look to your bathroom a complete revamp.
Ditch the mouldy old curtains that have certainly seen better days. In their place pick something bold and brave – being so cheap to replace you can afford to take a style risk. You can always replace later down the line if the style doesn't grow on you.
7 – Frames – With often much wall space to work with, the bathroom wall can offer wall painting real estate that you likely haven't considered. All you need is picture frames, and some nails (picked up from any local hardware store).
Search Pinterest or Instagram for inspiration on a theme and just run with it. Whether you go with animals, flowers or quotes – frames will spruce up the empty walls and give your bathroom a mini gallery to be admired!
8 – Revamp Your Storage Space – Shelves on the wall to cabinets (as we have already touched on), the storage in your bathroom. Open storage can work as a hub for a variety of other decor ideas such as towels, plants or even candles.
You can pick up a variety of neat looking storage shelves from places such as Argos for a very cheap price. Be sure to shop around to ensure that you find the storage spaces that suit the bathroom look you are going for!
9 – Reseal Over Replace – With a simple stanley knife and a cartridge gun full of sealant you can transform the tiles in your bathroom and make them look brand new. Simply use the stanley knife to cut away the old sealant from the top and bottom. Then gently pull the old sealant from the wall.
Then in one smooth motion reseal the gaps and leave to dry overnight. If you are feeling even more creative you can try experimenting with different colours to give the tiles a new feel and look!
10 – Replace Bathroom Fittings – From taps to showerheads, the fittings in your bathroom can degrade over time and begin to look lacklustre. Giving these a much needed update can make them pop once more and catch the eye of anyone that walks into the room.
You may want to do some browsing for new taps and fittings, check what matches the style you wish to go for. From black matte finishes to the more classic bronze or copper style, there will be a look that suits you.
It would be worth hiring a plumber to fit these correctly, but once they are your bathroom will be transformed. Don't stick with your old worn out taps and showerheads, replace them today for the perfect budget bathroom decorating idea!
Conclusion
As you can see, transforming your bathroom does not always need to come with a hefty price tag.
Budget decorating ideas for your bathroom exist, and can make a real difference. We always recommend giving these a go first before deciding whether to redesign your bathroom.
You would be amazed what a simple lick of paint, a few pot plants and some art on the wall could do!