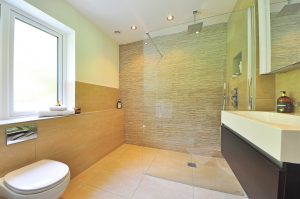 If you are renovating or moving into a new house, you are probably thinking about different costs, like those for plumbing. Our experience tells us that these costs can vary a lot depending on several factors, such as what's being installed, the size of your bathroom, how much material is needed, the duration of the time taken for the work to be completed, etc. Other factors, such as old and impaired pipework that require repairs, could also increase your plumbing costs.
However, the average cost of plumbing for a new bathroom is around £6,500, but if you budget it well and compare prices with other plumbing services, you can save on certain areas. Before starting, always remember to ask the plumbing company if they have a minimum charge. Some plumbers have a minimum charge of half a day, which means you could end up paying more for a small job like switching a basin. In such cases, combining several jobs on the same day would be more cost-effective.
Here is a rough guide of the various plumbing costs which will vary by the area of the UK you reside in:
Basin installation with pedestal: £70-£120
Toilet installation: £75-£140
Bath installation: £130-£220
Taps installation: £50-£80
Underfloor heating installation: £350-£850
Tiling: £400-£1300
Resealing a bath: £45-£75
Old bathroom suite removal: £150
Removal of rubble: £150 per tonne
Removal of tiles: £12-£18 per square metre
Tiling
While tiling costs are somewhat dependant on square meters. Factors such as the type of tiles being used and the area being tiled also affect your costs. Bigger tiles are faster to work with as they cover a larger area at a time as opposed to smaller ones and, therefore, could be less costly to install. Bathrooms have plenty of furniture, such as doors and windows, that will need to be tiled around, adding to the costs. If the previous tiles need to be removed to be replaced, that could add to the costs too.
Electrical Work
Electrical work can be a major cost when it comes to bathroom plumbing. You may want to change the lighting in your bathroom or fit a hairdryer socket or even an extractor fan. Usually, the cost of electrical work comes to approximately £300 for a days labour.
Basin Cost and Installation
The best option when it comes to basins is ceramic basins with pedestals. They are the most affordable and start as low as £40. Available in a variety of designs and sizes, they are easy to install, making them widely popular in the UK.
Other basins, such as countertop basins, start at around £90. The cost of the unit needs to be taken into account as well. While most basins are ceramic, others such as those in stone, metal, or glass are available too. However, they will cost you more as compared to the ceramic basin.
Toilet Cost and Installation
A close-coupled toilet is the most reasonable option, and this option starts at around £60. They are also easy to install and available in a wide range of modern and traditional designs. It is safe to say that close-coupled toilets are the most common in the UK.
Another option is high-level toilets, which are best suited for traditional bathrooms. They are slightly pricier, starting at around £250.
If your bathroom is not very big, and you don't want it to look too crowded, your go-to toilet should be a wall-hung toilet. They give a modern look and start at around £180; however, the cost of the wall frame and installation should be kept in mind.
Bath Cost and Installation
The cost of a bath depends on the material that it is primarily made from. The more reasonable baths are usually made from thin acrylic and are ready to be built-in to a frame, which can then be tiled or panelled. These baths usually start at around £70; however, they aren't the most practical as they can be slightly wobbly and insubstantial.
More expensive baths are generally made from acrylic as well. However, they are constructed from a thicker version of it with fibreglass reinforced into it to make it last for a longer time.
If you want something in the middle, steel baths are your option. They are of better quality and more practical as compared to cheaper acrylic baths. Prices start at around £120.
Taps Cost and Installation
The cheapest option for bathroom taps are pillar taps, and they are priced at around £30. In this option, there are separate taps for hot and cold water. Mixer taps are another option that is slightly more expensive, starting at £45. This option also has separate controls for hot and cold water. However, Monobloc mixer taps have a single lever handle that controls the hot and cold water supply. These taps start at around £50 and are a more common option.
Shower Cost and Installation
An electric shower is an ideal option for those working with a limited budget. They supply hot water on demand. An electric shower is an economical option whose prices start at around £50.
Bath shower mixer taps are also a reasonable option and start from around £50. These have a shower hose and head attachment and are fairly easy to install.
Thermostatic mixer showers cost about £125. They automatically adjust the water's temperature as they have a built-in thermostat.
A more expensive option is shower towers that cost approximately £170. These include body jets, a shower head, hand shower, and controls. This option is fairly quick and easy to install and gives a luxurious feel to your bathroom to make shower time a lot more enjoyable.
Full Bathroom Suite Cost
Complete bathroom suites generally include the bath, basin, or vanity unit, toilet, and, sometimes, the taps and wastes. Buying separate items can cost you more. In comparison, these suites are more economical and give a more matched and classier feel to a bathroom. It may be a more convenient option and save you from the hassle of coordinating each separate item when booking from a supply and installation company.